How to Use Your Garmin eTrex GPS for Bikepacking
Learn how to plan a bikepacking route using free maps and free apps. While there are many cycling-specific GPS units in the market, one non-cycling specific unit is the golden standard in bikepacking navigation. The Garmin eTrex series GPS units check all the boxes when it comes to usability and reliability.
GPS Choices
There are so many GPS units on the market, ranging from very specialized ones to generic application units, that it might seem hard to narrow down your options to a few backcountry-worthy devices. Garmin's eTrex Series of GPS units have become the golden standard in bicycle travel and bikepacking because of a few reasons:
Reliable signal: You won't be lost in the backcountry. eTrext GPS uses both GPS and GLONASS satellite systems.
Versatile power options: No need to worry about finding the next outlet. This unit can be powered by normal AA batteries or rechargeable batteries.
Low power consumption: My eTrex 20x can run for 4-5 days on a fresh set of batteries.
Expandable memory: You're not limited by manufacture's spec. You can add more memory through the MicroSD card slot.
Water Resistant: Getting wet is inevitable in the bikepacking world. eTrex units are rated IPX7, meaning they are resistant to rain and snow and can be submerged up to 1 meter for 30 minutes.
Price: eTrex 20x and 30x are some of the most affordable units on the market.
To me, the biggest determining factor in choosing the eTrex 20x is the battery life and the ability to use regular AA batteries. Knowing that I can just swap batteries if I run out of juice gives me great piece of mind. If you have used a cell phone for navigation, you know how stressful it can be having to worry about your battery levels. This is especially true if you don't have a dynamo hub on your bike.
Garmin eTrex Series
There are currently a few offerings in the eTrex series, but I'd like to focus on the 20x and 30x GPS units. There are only a couple of differences between these two models: the 30x has an electronic compass, a barometric sensor, and a higher price tag. These devices don't have the fancy touchscreens their siblings have and that's exactly what I love about them – their simplicity.
The new offerings in the eTrex series are an improvement over the already very popular eTrex 10, 20, and 30 devices. The new devices have a better display, better reception, and increased memory capacity. If you already have a compass and don't care much about determining altitude with a barometric altimeter, you should save some cash and settle for the eTrex 20x.
When I was choosing a GPS device, I ruled out the touchscreen devices right away. Touchscreens don't work very well when wet or when you are wearing gloves. I'm one of those people who wears closed finger biking gloves even during the summer. The navigation button (joystick) on the non-touchscreen units is very responsive and reliable. I didn't see a need for a touchscreen. Also, the touchscreen versions have a lower battery life.
Garmin eTrex Guide
This guide is based on the device I own (eTrex 20x), but it is applicable to most GPS units out there. Likewise, this guide will be focused on bikepacking and bike touring navigation, but you can reference it for other applications like bikepacking, skiing, or any other kind of backcountry navigation.
Weight Weenies Will Dig This
This device is not only one cheapest units out there, but it is also one of the most light-weight units in the market in this category. I can't say that I put too much thought in how heavy my navigation system is but I was presently surprised to find out that the eTrex 20x clocks in at 99 grams (3.5 ounces) without batteries and memory card loaded. When adding the much-needed batteries and expansion memory card, the weight penalty only increases 30 grams (1 ounce) This brings the total weight of the unit to 130 grams (4.6 ounces). To put things in perspective, my Crankbrothers tool weighs 180 grams (6.3 ounces).
Loading Shiny New (Free) Maps
Most GPS devices will come loaded with so-called basemap. These basemaps are very basic in nature and are not suitable for navigation. This means that you have to load a more detailed map before you can use it for bikepacking navigation.
One of the great things about these GPS devices is that you can load free maps. Branded maps, like the ones Garmin themselves sell, can be pretty expensive. With the advent of open source maps, like OpenStreetMaps, you no longer have to pay to have high-quality maps. There are 3rd party websites that will do all the legwork for you. All you have to do is transfer the detailed map to your Garmin eTrex.
This might seem like a long process with many steps, but it is actually pretty straightforward. I'm including a lot more detail than you probably need. But that's a nice thing I'm doing for you:). Have a microSD card and a memory card reader will make things faster, but it is not needed.
Here's a step by step guide on how to load free maps on your Garmin eTrex:
1) Download Maps from 3rd Party Services
There are a few free (and paid) services out there, but I usually use bbbike.org. I have also used Talky Toaster and garmin.openstreetmap.nl.
Once you get to bbbike.org, you have to select the region on the map that you would like to download. Keep in mind that the bigger the area, the larger the final map file will be. You can use the polygon tool to fine-tune the coverage area. This way, you won't be downloading information that you don't need. This is also where the expansion memory card comes in handy, so you don't run out of space on your device.
Make sure to select a compatible format with the eTrex 20x. Any of the Garmin (ASCII) formats should work. I like the Openfietsmap Lite style.
Go ahead and click the extract button. At this point, magic will happen. Basically, this service will download all the information from OpenStreetMaps and package it in a way that Garmin devices can understand.
You will receive an e-mail with a download link when your Garmin map is ready. This should only take a few minutes, but the time will depend on the area you selected. While I waited for my map to be ready, I took some time to donate some money to the creator of this service.
At this point, you just have to transfer the gmapsupp.img file to your Garmin's microSD card, making sure the file is placed in a folder called Garmin.
2) Transfer the Map File
Insert the microSD card in your computer. Before you transfer the map file to the memory card, you have to make sure there's a folder called Garmin.
Now that you have created the necessary folder, move the gmapsupp.img file you downloaded to the Garmin folder.
There's only one problem. If you use two different maps from the same service, they might have the same name. Even if you rename the .img file, that will not change the display name the eTrex 20x. I recommend changing the name of your map using JaVaWa Device Manager.
3) Activate the Map
The last step in the process is to disable any other maps on your device that don't cover the same area you will be in. To do this, while on the map is being displayed on eTrex, push the setup button to bring up the context menu. Select Setup Map and then Map Information. Now, select the map you want to disable.
Finally, this is what the map will look like on the device. You can see the details for the city of Missoula, Montana.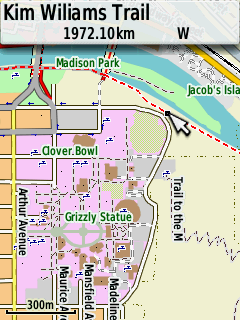 Planning the Route
I usually use ridewithgps.com to design my routes. There are other apps that will assist you in creating a route, but I find Ride With GPS to be the easiest one to use. This app is able to import existing GPX tracks, a feature that Strava lacks. When creating my route, I make sure to use OSM Cycle as a basemap. This way, the map on my Garmin eTrex will match the map I used to create the route.
After you are happy with your route, you can export the GPX Track. This is very easy to do inside the Ride With GPS app. Just select the EXPORT tab on the right panel, and click the GPX Track (.gpx) hyperlink.
At this point, you could just load the .gpx file on your device and get out and ride. But I usually take a couple of extra steps to clean-up the route a little bit. I run through the route in Basecamp (Garmin's desktop mapping application) trying to spot inconsistencies, fixing any routing glitches. Also, Ride With GPS will export what Garmin devices understand as tracks, meaning it will not be able to give you turn-by-turn directions. If you want turn-by-turn navigation, you need to convert the track into a route.
These terms are a bit confusing since each mapping app/provider uses slightly different terms when referring to a routable track. Garmin considers a track a breadcrumb-style track, with no turn-by-turn features. A route, in Garmin's terminology, means that the track can be used for turn-by-turn navigation.
The connected green squares represent a route, while the footprints represent a track.
To make matters even more complicated, the eTrex series of GPS units (like many other GPS units), have a limitation on the number of waypoints that a route can have. If you create a route with more than 250 waypoints, the eTrex will not only not give you turn-by-turn directions after 250 points, it will also cut off your route short. I learned this the hard way when my route ended abruptly some 20km short of my destination while biking across the Scottish Highlands.
Considering that we are talking about a bikepacking route, a route will most likely have more than 250 waypoints. I recommend making sure that you have a track.
To Recap
Create the route using your favorite application
Export the route as a GPX file
Import the file into Garmin's Basecamp application
Clean up the route, fixing routing glitches
Make sure you have a track in Basecamp (not a route)
Transfer the route to your device
Tips and Tricks
It's possible to transfer files using your phone microSD slot.
You can customize the (2) data fields displayed while navigating on a map.
If you use certain menu options frequently, you can customize the back button to flip through different screens.
| | |
| --- | --- |
| WEIGHT (w/ batteries) | 130g (4.6 oz) |
| PRICE (street) | $170.00 |
| CONTACT | garmin.com |
| AMAZON LINK | LINK |